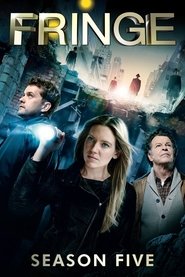 The fifth and final season of the American Fox science fiction television series Fringe premiered on September 28, 2012, and concluded on January 18, 2013. The series is produced by Bad Robot Productions in association with Warner Bros. Television. The show was officially renewed for a 13-episode fifth season on April 26, 2012.
J. H. Wyman served as a sole showrunner during the last season, with four other writers: Alison Schapker, Graham Roland, David Fury and Kristin Cantrell. Lead actors Anna Torv, John Noble, Joshua Jackson, Jasika Nicole reprised their roles as Olivia Dunham, Walter Bishop, Peter Bishop, and Astrid Farnsworth, respectively. Previous series regulars Lance Reddick, Blair Brown and Seth Gabel returned as special guest stars.
This season takes place in 2036, the Observer-ruled dystopian future previously seen in Season 4's "Letters of Transit". The opening sequence for the season retains the one featured in "Letters of Transit", with terms including community, freedom, joy, imagination, individuality and free will.
The ninth episode of the season, "Black Blotter", serves as a "19th episode", showing hallucinations from Walter's drug trip. The hunt for the tapes which contain the plan to defeat the Observers, serve as the way to contain one story into one episode, thus creating a procedural side of storytelling.
Episodes